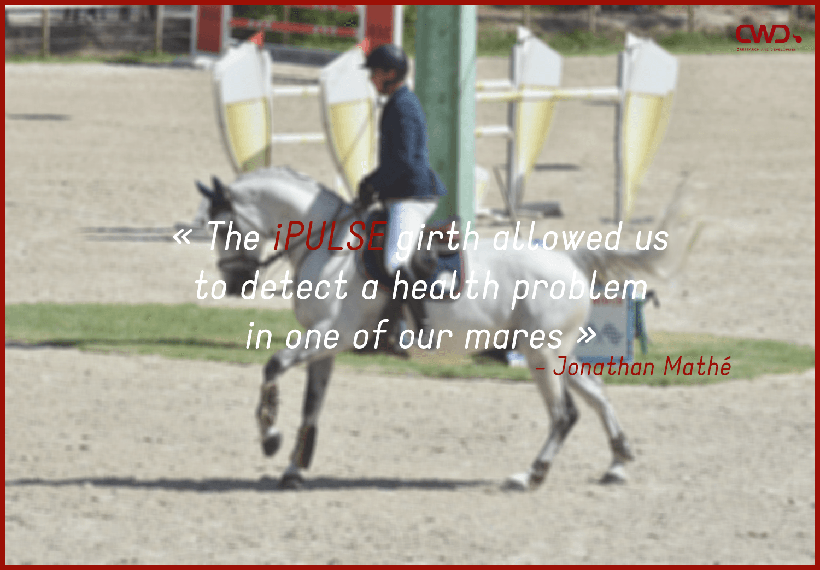 Jonathan Mathé testifies
We believe that the customer experience is essential when riders choose their riding equipment. This is the reason why we decided to share with you multiple testimonies of riders using the iSPORT gears on a daily basis, whether they are professional, top level riders or even amateur riders.
Today, we will present you Jonathan Mathe's testimony.
Jonathan has been a professional rider and a CWD partner for many years now. He uses the iPULSE girth on a daily basis to train his horses and keep a record of their progress.
What he prefers the most?
The live mode! Indeed, this tool has become essential to him, because it allows him to adapt his training depending on the horse and the situation. He also uses it a lot to work at home on the intensity of competition, as we previously talked about it. It is also a tool that he makes available for his students to use in order to help them work on their search of the right speed and rhythm.
It is thanks to this live mode that Jonathan was first alerted about potential health issues in her mare. The cause? The data given by this tool where abnormally high when training this mare in comparison with the data for the same training with his other horses.
After the session, the analysis of the different indicators given by the iSPORT app allowed the rider to confirm the fact that his mare was more in difficulty than the other horses of the stables.
"We realized that, for similar trainings, this mare was mostly in the maximum effort zone during her sessions, while the other horses dit not [….] After multiple examinations, we detected a heart problem and a lungs infection", explained Jonathan Mathe.
Following these examinations, the mare was stopped for a month. She is now in good health and back into training.
The iPulse girth, that allowed the rider to detect this problem, will now play a different role by allowing Jonathan and his team to improve this mare physical condition step by step, in complete safety.