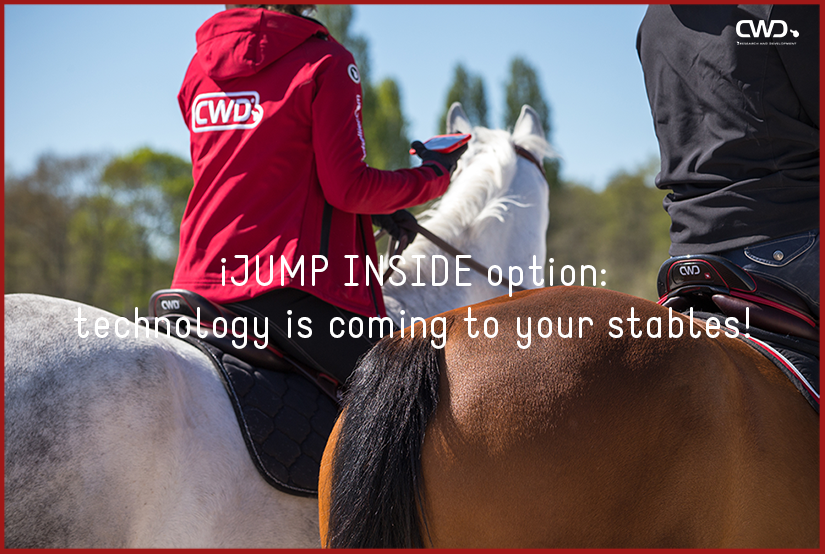 iJUMP INSIDE option: technology is coming to your stables!
Available from 15 March 2021 inside our 2GS, Mademoiselle 2GS and 2GS Kid saddles, our iJUMP INSIDE technology lets you train in an entirely new way. Discover the essential option to achieve considerate improvement of your horse.
The fruit of four years of research by CWD's R&D teams and their partners, iJUMP INSIDE technology brings technology into the heart of our Dynamick range. The option takes the form of a box inside the cantle and sensors in the pommel of your saddle. Equipped with the iJUMP INSIDE option, your 2GS can precisely calculate valuable key movement indicators to allow you to measure the quality of your work with your horse.
Combined with the iSPORT app installed on your smartphone, using iJUMP technology provides you with objective data in parallel with your own feelings when training and competing.
Why choose the iJUMP INSIDE option?
An objective take on your own feelings...
Who hasn't wondered if their horse's canter on the approach to a jump is a competitive canter?
Our iJUMP INSIDE technology will help you, backed up by analysed data:
Check that your speed is actually what you need for competition (350 m/min in general).
See the regularity of strides between two jumps.
Symmetry of the horse as the hindlegs push off.
Number of strides needed for the horse to recover its balance after the jump.
Our perceptions of our horse do not always reflect reality, so the iJUMP INSIDE option offers you the ability to make your feelings more specific with compelling data.
Take a look at our R&D blog to find numerous articles giving a range of case studies to enable you to understand each parameter separately and train to ensure your progress.
If you want to improve something, first you need to measure it...
Once you start using the iSPORT app, all your data will be recorded and stored. Train and see your progress at different times throughout the season and different stages of your horse's life. The best way to do that is simply to cross-reference the various parameters!
Do you manage to keep the same canter rhythm as you increase your speed?
Does your horse recover its balance as quickly after a single 80cm jump as after a 1.20m jump in a course?
Take a look at our YouTube channel where you can find lots of exercises to get the best out of the iJUMP system and help you to make progress:
Analyse your videos straigth away...
In equestrian sports, like many other sports, video analysis is an important part of training. It helps with understanding mistakes, but also analysing what you're doing right so that you can do it again. Here, you have a complete and compact video analysis tool, specially designed for equestrian activities. A timeline that clearly shows every jump of the course, a slow motion mode and a play/pause function that's easy to use under all circumstances (even when wearing gloves 😉).
This video mode is useful for:
Debriefing your competition rounds as you usually would, but with the added objectivity provided by the data.
Carrying out an immediate analysis of two exercises to compare their effects (for example looking at the symmetry of the horse, with or without guide poles).
But how are the parameters provided by the iJUMP INSIDE option calculated?

In the app, your target will be to achieve a regularity of at least 70 %.

In showjumping, the specified speed is usually 350 m/min.

Check that your approaches are consistent.

Straightness on the flat and symmetry in the take-off will help your horse to improve its action.

Maintain the balance and regain your horse's readiness no more than 3 strides after the jump.
We have put an accelerometer and a gyroscope in the heart of the saddle, in the pommel. The accelerometer is a sensor that records acceleration in three axes. The gyroscope is a sensor that records the angular position. These two sensors enable the saddle to measure the horse's movement.
We have a box in the cantle that houses a Bluetooth antenna and battery, enabling the saddle to connect to your phone and the CWD iSPORT app. 
The iSPORT app: a dedicated interface for use with smart products.
The app enables you to bring together all the data from your iSPORT products (the iPULSE smart girth and your 2GS iJUMP INSIDE option) in one place.
It is this app that allows the iJUMP INSIDE technology to come into its own. To view your training in detail with the five parameters calculated by your saddle, you need to use the iSPORT app.
Once you have created your profile and one for each of your horses, you can navigate freely through the app. The "Activity" tab is where you can film your course and view the summary of your training, as well as the video analysis with the parameters gathered by the app.
If you wish, you can also use the app to share your training with your friends and add comments.
So now you know all about the iJUMP INSIDE option. If you make full use of its technology, you will know that your progress with your horse is measured objectively. Add a coach to your 2GS, Mademoiselle 2GS or 2GS Kid saddle to give your horse and rider partnership a new, intelligent and considerate way to train.